Welcome to Elementary
(1st – 6th grade)
We take joy in practicing the Montessori Method. Our Elementary program serves students in 1st – 6th grade.
We believe in educating the whole student to the fullest of their potential.
We celebrate individual strengths and actively work on challenges. The process of learning is in our minds daily as we seek to guide our students in education and life.

We 

trust

the student to take increasing responsibility and leadership in our classroom and our community.

We 

follow

each student, by carefully observing the student each day in our prepared learning environment.

We invite students to lessons throughout the day both individually and in groups; simultaneously, students are initiating and accomplishing work on their own and in groups.

We 

encourage

students to talk about their work, work cooperatively, and communicate effectively with grace and courtesy.

We 

empower

the student to develop their inner guides in learning.

We hold deep conversations with students to help them become self-aware, develop their whole person, persevere, problem solve, and acknowledge both successes and gifts.

We are 

preparing

the student by teaching them to build a strong work ethic, to develop balance, and to achieve quality in their work.

We believe reflection on our work is vital to self-awareness and leads to the development of planning ahead, setting individual goals, and developing intrinsic awareness of growth.
We encourage students to try new things and to develop their personal interests.
Learn more on this page, created especially for you!
Lower Elementary serves students in 1st – 3rd grade.
Lower Elementary math materials bring a "hands-on" quality to the classroom, with children learning through trial and error, self-discovery, and teaching from other children. The materials quickly move the child to an abstraction of math concepts, including problem solving, fractions, borrowing and carrying, graphing, measurement, long division, and algebraic equations. Geometry is a fascinating area of Montessori. Actual wooden shapes are used to master the terminology of all of the plane figures and solids. Matching cards are used to introduce types and positions of lines, types and positions of angles, and special characteristics of shapes. Experimentation with other materials leads children to their own discoveries of spatial relationships, including congruence, symmetry, and equivalency.*​
​*adapted from the AMS website
Practical life, which was a separate area in the 3-6 classroom, is now integrated with the day-to-day care of the classroom and its inhabitants. Elementary children dust the shelves, organize and straighten the materials, sweep and vacuum, and keep the classroom neat and clean. The language area includes a phonics curriculum, word study (including antonyms, synonyms, homonyms, and compounds, as well as the parts of speech), creative writing, handwriting, literature, and research skills. Reading of every kind is highly encouraged, as children are introduced to poetry, folk tales, non-fiction, and classic literature. Children are also given many opportunities to read out loud — giving a presentation they have written or dramatizing the work of another author.*
*adapted from the AMS website​
Botany and zoology encompass a wide field of biological study. Matching cards are used to learn the characteristics of many plants and animals, and charts aid in the classification of the plant and animal kingdoms. After this first knowledge is gained, children begin to research on their own, using their knowledge of specific plant and animal species. Geography and history include the study of civilizations and countries. Wooden puzzle maps of each continent are studied, with children learning the names, flags, animals, cultures, and geographic features of each country. History begins with the study of time, including clocks, calendars, and timelines. As various fundamental needs of people (like shelter, transportation, food, and clothing) are explored, the children research and chart changes in these needs over time and across cultures.*​
*adapted from the AMS website
Children in an elementary classroom begin to keep a record of their work with the use of a workplan. The child still has the freedom to choose when and where they do their work, with certain goals for each week. Keeping track of their work helps students make good work choices, and lets the teacher see which presentations have been done and which are still needed.​
Upper Elementary serves students in 4th – 6th grade.
Upper Elementary students are introduced to advanced math concepts through the support of Montessori math materials. Students are better able to understand the "why" behind a math concept before being able to solve the problem abstractly or with "paper and pencil". This fosters a deeper and more complete understanding of mathematics. This support provides a solid foundation upon which future math experiences can rest. ​
Geometry in Upper El focuses on three main ideas: Equivalence, Area, and Volume. While the curriculum is broad in each category, the focus rests on allowing the students to derive proofs and formulas through hands-on manipulation of materials. Once again, students master advanced concepts through concrete experiences. 
Practical life skills are incorporated into daily routines in the classroom. Children are responsible for the care and maintenance of the classroom and the school property. They also practice the practical life skills of collaboration and communication through the research and presentation of the cultural curriculum. 
In the Upper Elementary classroom, there are three main areas of study within the language curriculum:​
Grammar

​

Word Study

​

Writing

​
The first two areas lead to the enrichment of the third. Grammar and word study enhance the student's writing skills. 
Additional components include daily read-aloud and literature analysis. Hearing outstanding literature and discussing the intentions of authors exposes students to various literary devices and strategies, which they can incorporate into their own writing. The curriculum provides the experiences and skills needed to be an intentional writer and, thus, a better communicator.​
In Upper El, we use cultural studies as a springboard for research, writing, and presentations. ​
History – We root children in history so they can move forward. As we look at history, from the formation of the universe to modern day, we see the repeating theme of humans responding to and meeting their fundamental needs. This allows students to see human life as a pattern with common elements regardless of geography or time period. From there, they can appreciate the basic unity of all people and further explore the questions of who am I and where do I fit in the vast but finite history of humankind. ​
Geography – There are several components to the geography curriculum: ​
Functional – geology, astronomy

​

Physical – map skills, landforms

​

Cultural – country studies

​
Science – The purpose of the Upper El science curriculum is to teach students to find answers to questions using a structured process. These structured investigations provide the process, skills, and framework needed to conduct exploration based on personal interests.
The elementary workplan evolves in Upper El to an ongoing weekly calendar. Students have some works that are repeated weekly and some that are assigned as they progress through the week. This provides students with the increased challenge of managing tasks over a greater period of time. To be successful,  they must prioritize assignments and manage their time. This also allows for children to experience valuable life lessons around choices and their natural consequences both positive and negative. ​
Students complete work and get it checked off by a teacher. This allows the teachers to be acutely aware of where each student is in their academic journey through Upper El.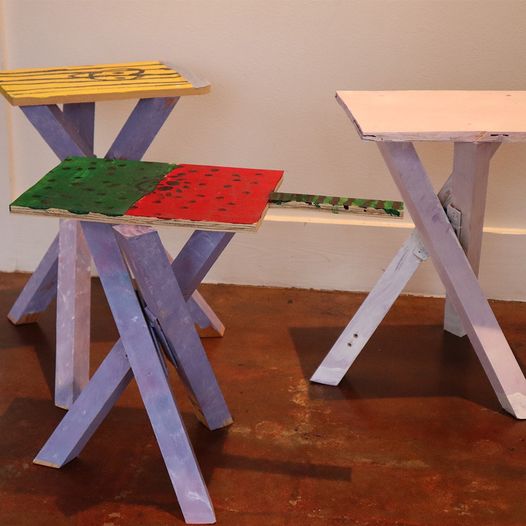 da Vinci Lab
WikiSeats by Jas, Sofia, and Sullivan. Jas wants everyone to know that her seat is a popsicle (red and green). Sofia would like everyone to know that her seat is a cupcake (yellow and black). Sullivan's Wiki Table is constructed from wood, metal, acrylic paint, and screws.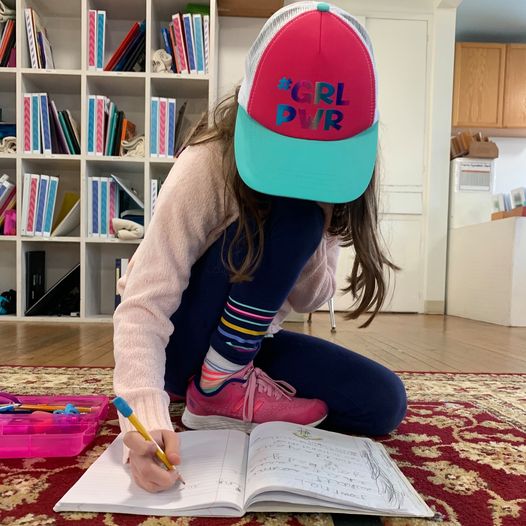 Empowerment
We love seeing our students express themselves in whatever way feels authentic to them. What is something that makes you feel POWERFUL?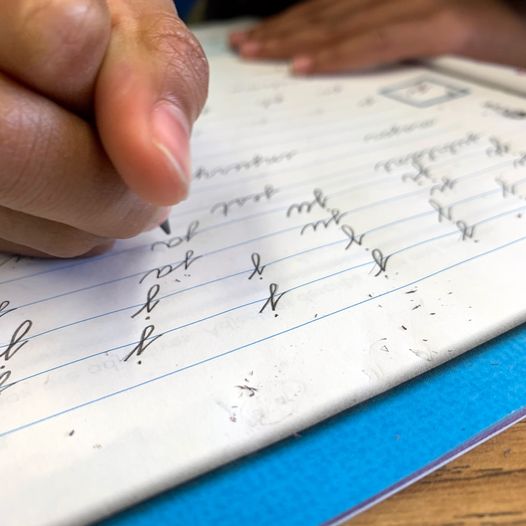 Language
In Upper Elementary, we want every student to discover the joy of cursive writing. Did you know that retention in increased if notes are taken in cursive? Some researchers theorize that the flow of the script may help connect ideas together. Even though typing has been a key skill this year, we continue to provide cursive lessons in class.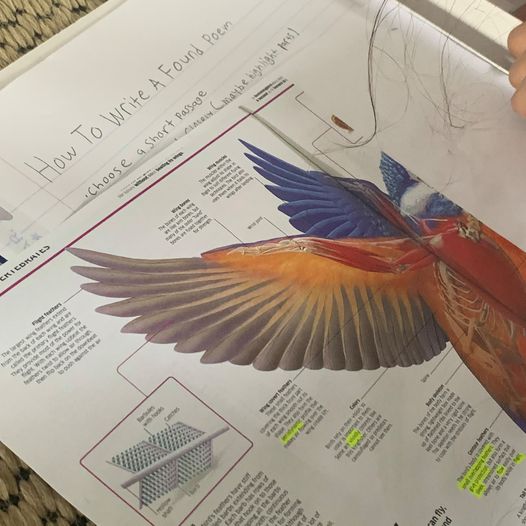 Language
To practice close reading, students are learning to write a "Found Poem" where they take different words from a passage and weave them together to create an original piece of writing. This creates an authentic situation for students to look closely at language to see how it creates meaning and poetry. Each student chose a different nonfiction passage as inspiration. We look forward to reading about fossils, light, earthquakes, reptiles, the Renaissance, and more!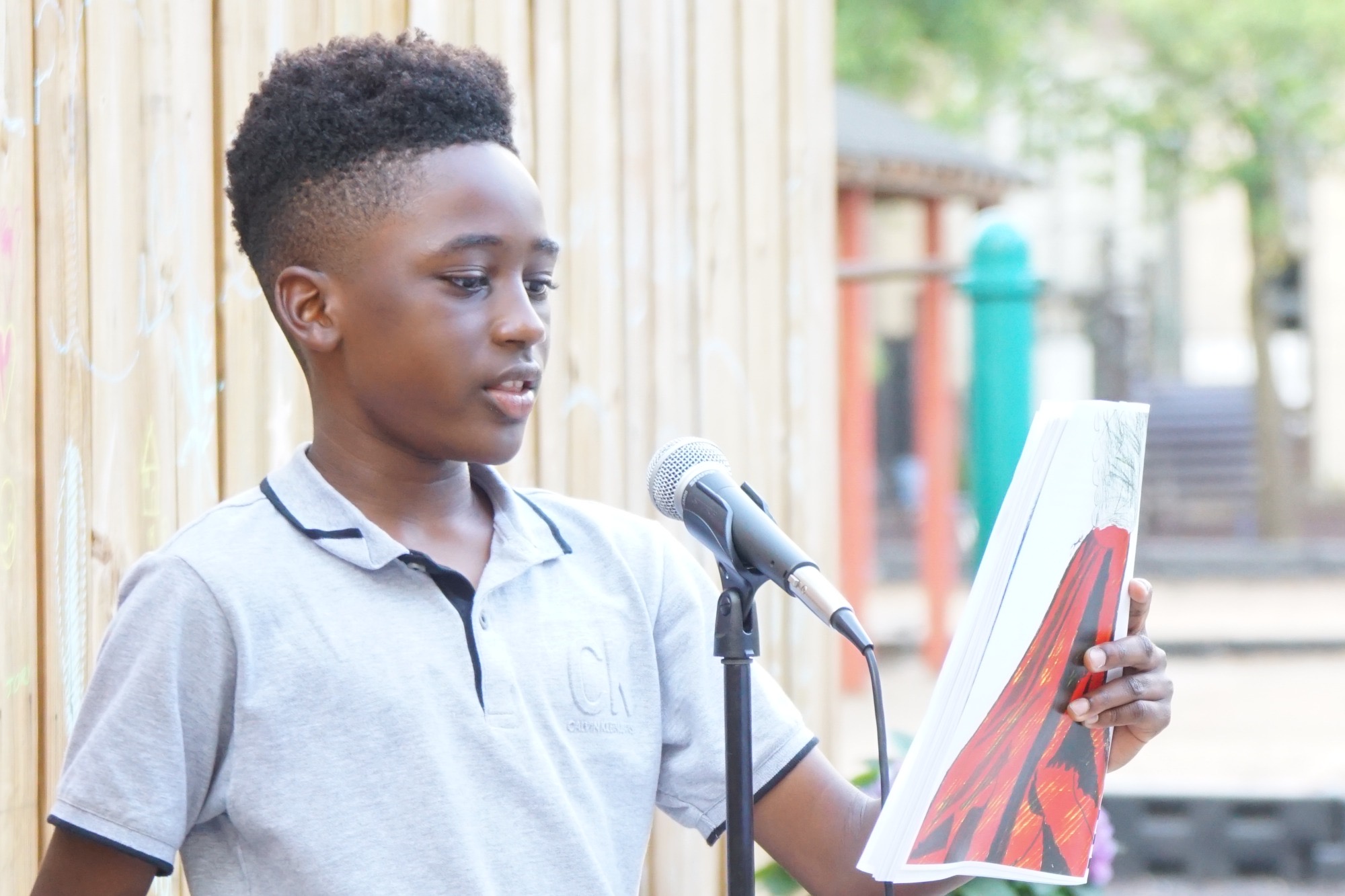 Language
What a wonderful evening of prose and poetry at our Upper El Authors' Night! Students shared their favorite piece of original writing with family and friends. We laughed, held our collective breath in suspense, gathered knowledge, and most of all enjoyed our time in community with our Upper El family.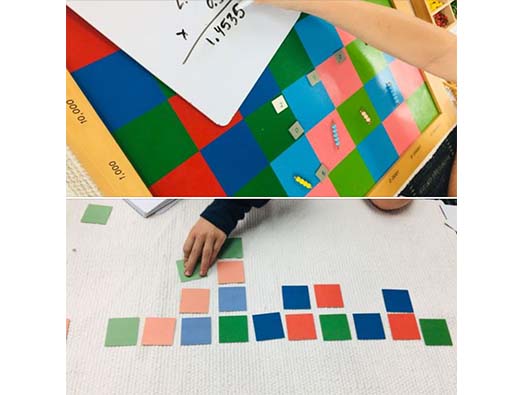 Math
Concrete math experiences help upper elementary students to visually understand decimal multiplication. We all learn the short cut eventually, but this student can also explain the math behind it!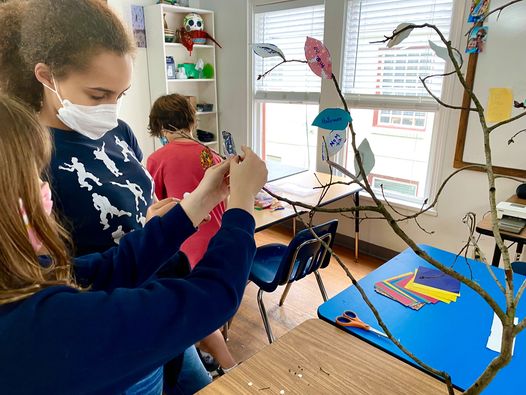 Art
Students made thoughtful lists of what they are thankful for and created leaves. They collectively made two trees, one for their classroom and one to gift. If you look closely on the leaves, you will see things like: Mom, Dad, animals, spaghetti, color, beauty, ice cream, peace, love, joy… and many other wonderful things that the kiddos are grateful for! It was an awesome kickoff to the holiday season.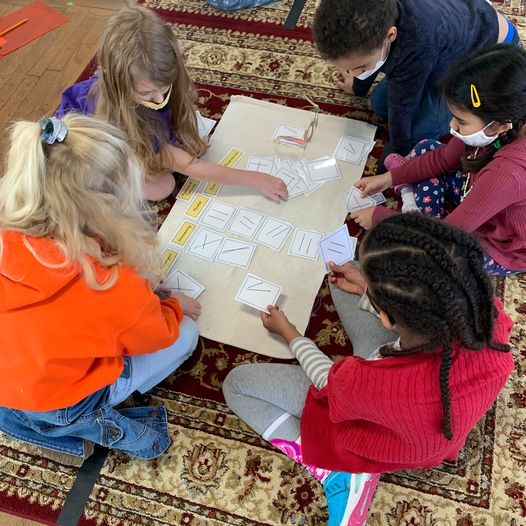 Geometry
Teamwork makes the dream work! These second graders are classifying lines by their relationship with each other. Think you're up for the challenge?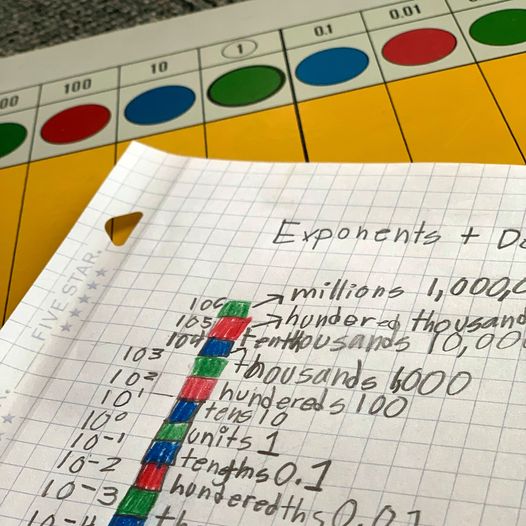 Math
In 4th grade, we really focus on understanding the decimal system. When we learn exponents, we connect the powers of ten to the decimal system that students work with every day! Recently, we connected the place values on the hierarchy board to the powers of ten using positive and negative exponents. It's pretty amazing what you can do with a decimal point and some zeros!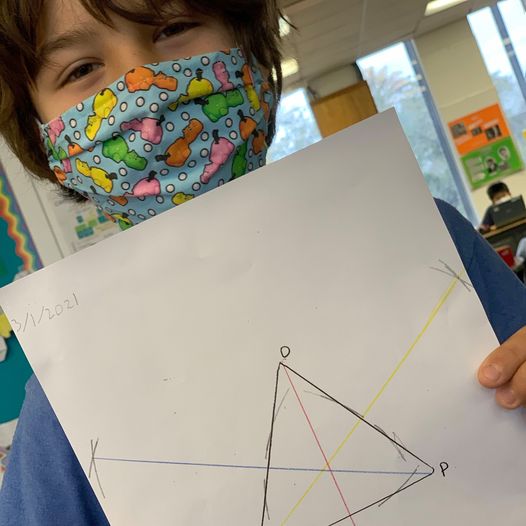 Geometry
4th graders are having a blast with constructions this week! With only a ruler and compass, they have learned to draw a perfectly equilateral triangle. The beauty of Montessori geometry lies in discovering the beauty that math creates.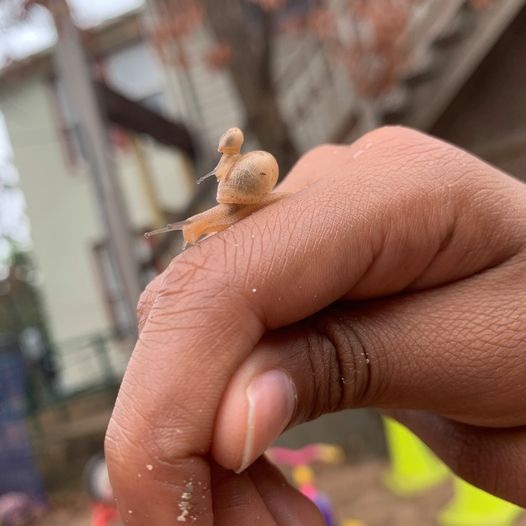 Science
Nature is amazing! During a rainy day on the playground, the students discovered some beautiful snails. This led to research on what they eat and the impromptu creation of an informational presentation and slideshow all about snails. What a lucky find!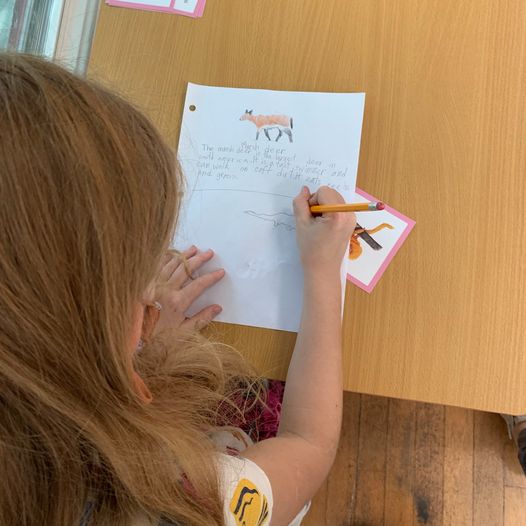 Cultural Studies
Lower Elementary students have taken on the continent of South America this month. They've studied the geography of the continent, researched numerous countries, and are now investigating the animals from each biome of the continent!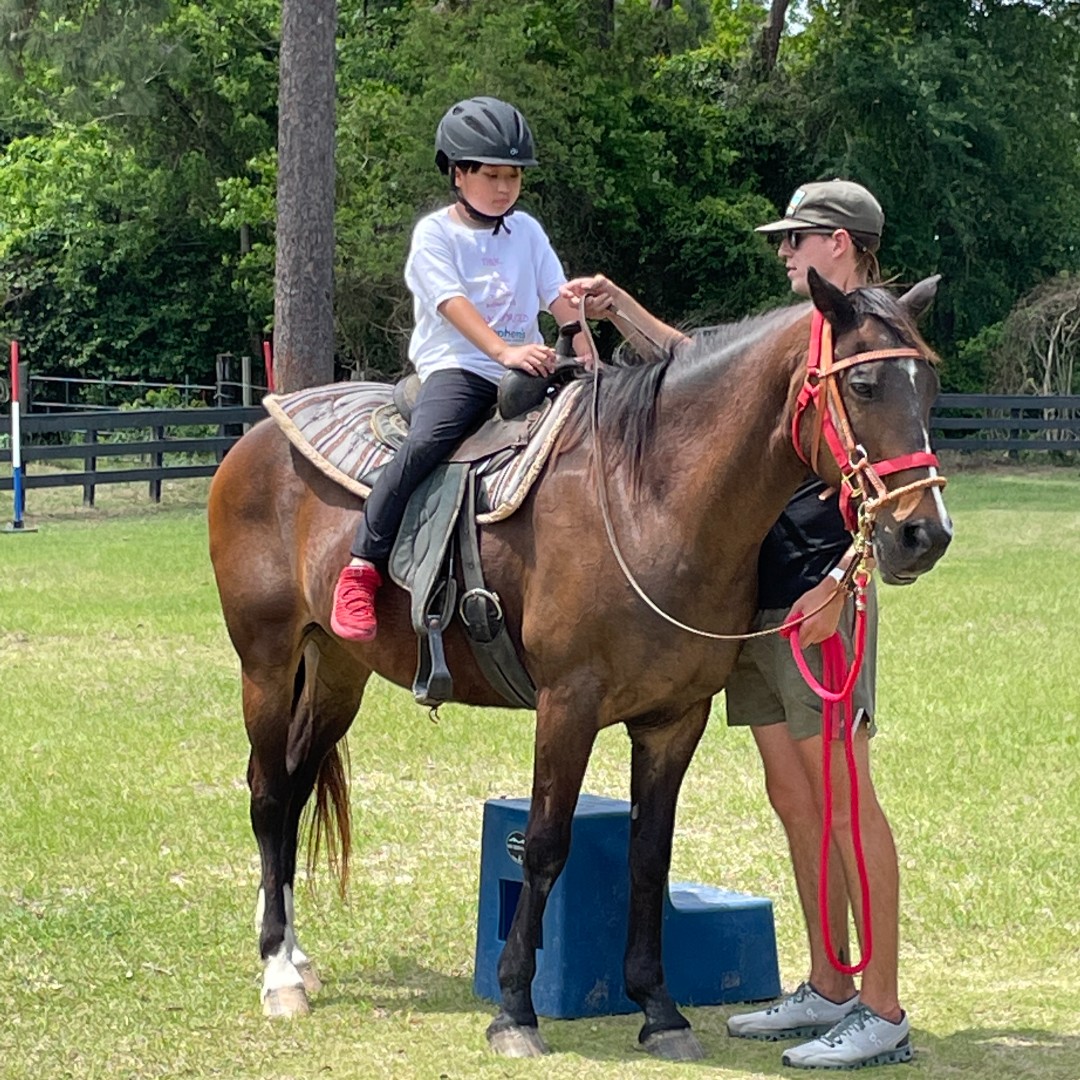 Class Trips
"When children come into contact with nature, they reveal their strength."
– Maria Montessori
Thanks for the memories, Camp Olympia!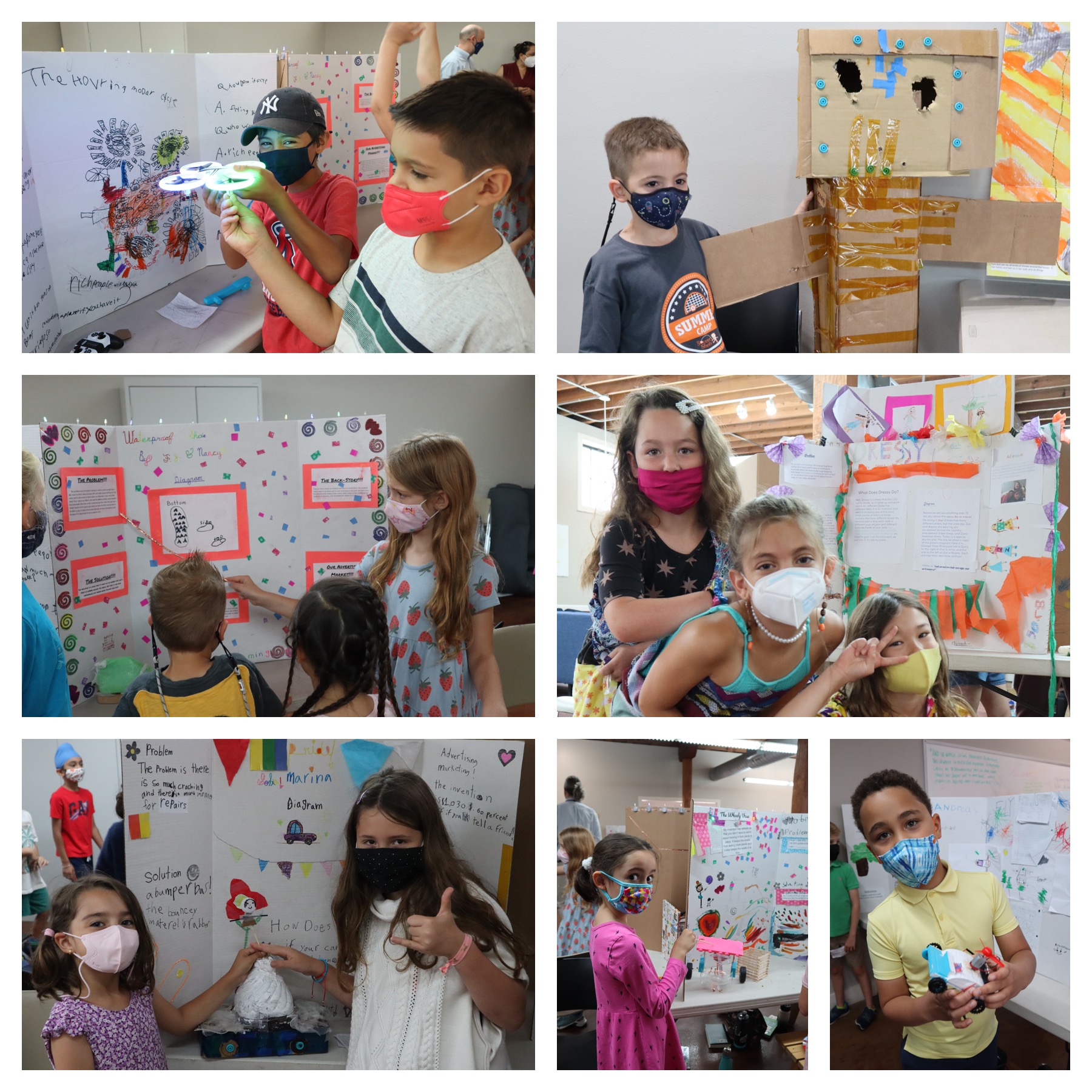 Lower Elementary's Annual Invention Fair
Over the past six weeks, students submitted proposals for their inventions, received patents, built prototypes, designed posters, and wrote presentations. All of this work was presented to friends and family this past Tuesday. Congratulations, to our 1st-3rd graders!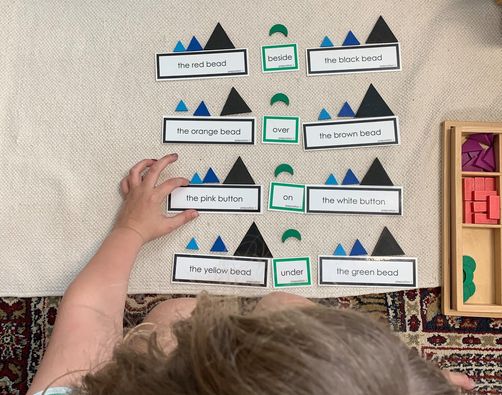 Language
The story goes that Maria Montessori was traveling in Ireland and was walking *over* one of the mossy green bridges when she came up with the symbol for the preposition. Children use different symbols to represent each part of speech. Can you identify each part?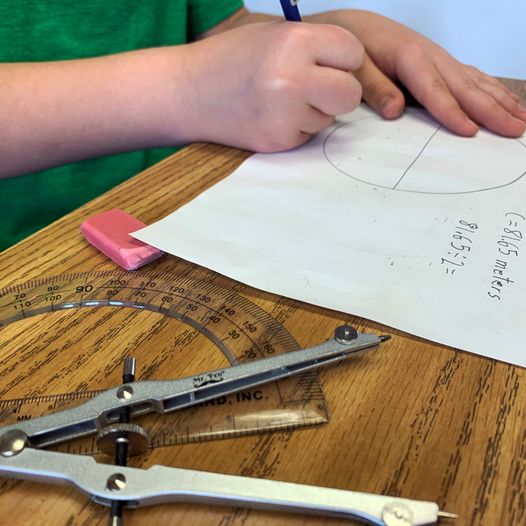 Geometry
Montessori geometry is all about exploring the two and three dimensional art that math makes. 5th graders are learning to correlate the diameter of a circle and its circumference. How cool it is that you only need to know one to find the other? Students enjoy illustrating their own calculations with a compass and protractor!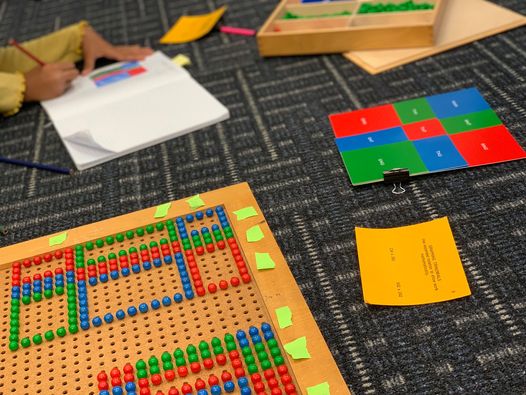 Math
The infamous square root board in action! These students are using the Montessori peg board and share guides to find the square roots of some massive numbers. The colors help keep everything straight because they have been used to symbolize place value since students were in Lower Elementary! The peg board helps students to visualize complex concepts, and leads right into pre-algebra.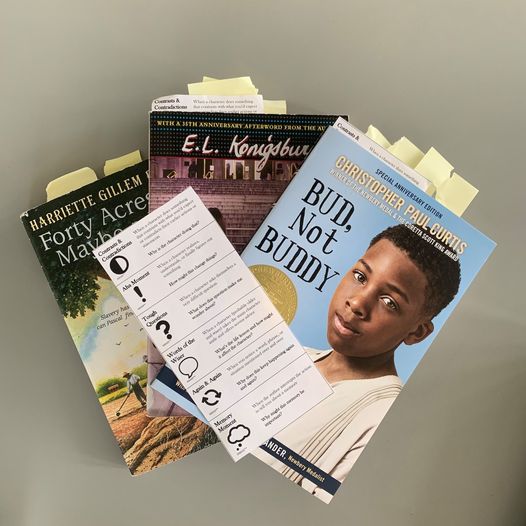 Language
In book clubs, we teach students to ask their own questions about the books they are reading. This prompts self-guided analysis on the book, and created a sustainable practice of deep reading. To support this, we are focusing on looking for "signposts" in a story that should get our attention and prompt further thinking. For example, when the main character finally realizes something, we can ask ourselves, "How might this change things?"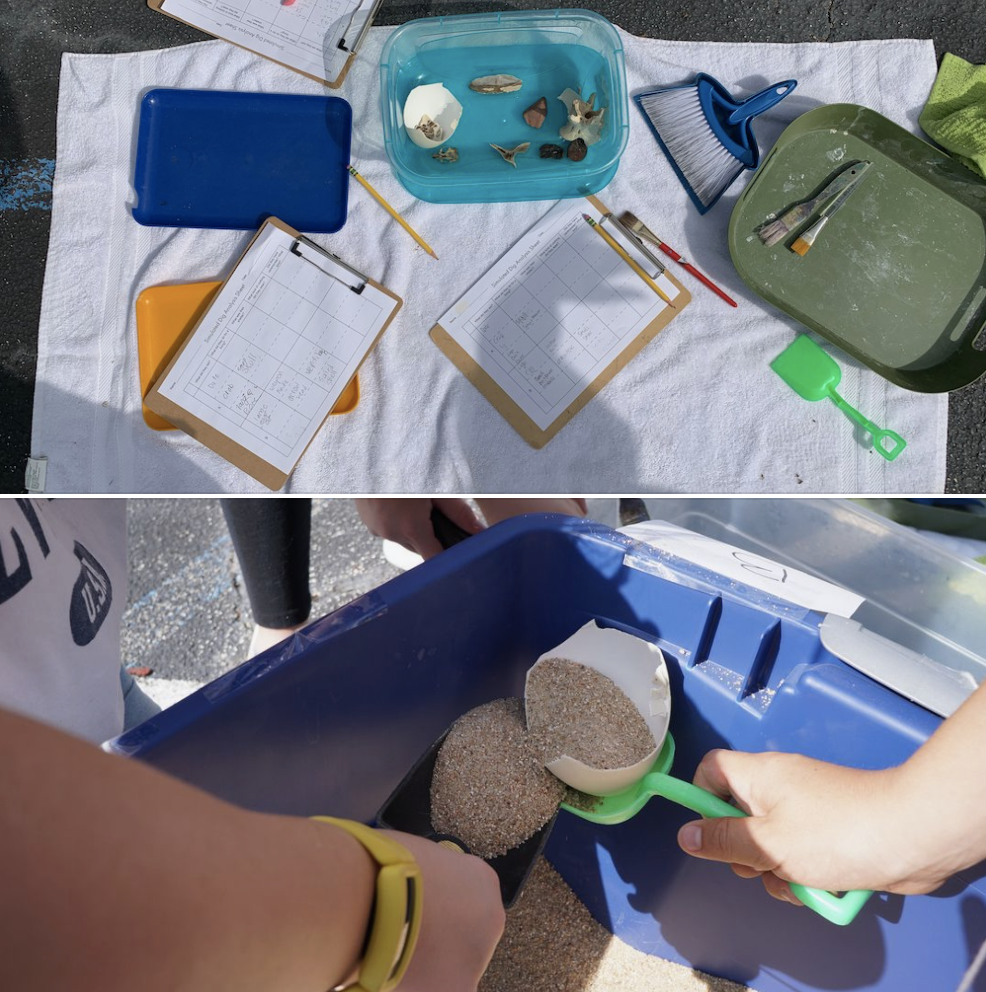 Science
5th & 6th graders conduct an archeological dig @ SSESH. What do you see? What can you infer from the archeological finds? What conclusions can you draw about the humans who left behind these items?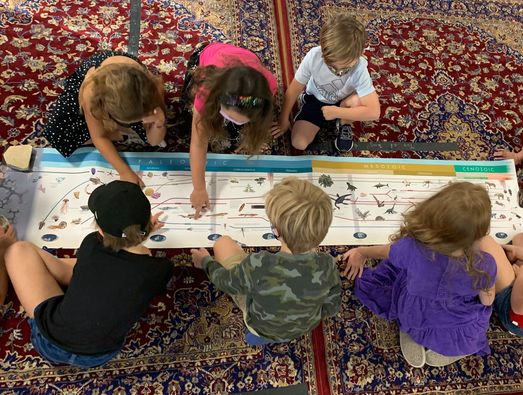 Science
The Timeline of Life is used to communicate the "cosmic task" of each living thing from microorganisms to humans.