Curriculum @ SSESH
St. Stephen's Episcopal School – Houston embraces a continuum of education, where each developmental stage of the student is nurtured. Students ages 15 months through 6th grade are guided through the Montessori philosophy and pedagogy, as accredited by the American Montessori Society. The Montessori-inspired Middle Years program (7th and 8th grade) augments accelerated learning in core academic subjects with dynamic electives, linking all subject learning to conceptual themes.
The Montessori principles and methods, which sit at the very heart of the school's educational philosophy, align seamlessly to the advantages a child will enjoy when exposed to an interconnected and balanced curriculum. Subject specialisms in the arts, the sciences, wellness and athletics, engineering, languages, mathematics, and literature are celebrated in our school and with our students. As our students progress, we deliver authentic project-based learning experiences in which academic excellence, collaboration, and community impact are at the forefront. 
Our multi-age levels are as follows. 
Orientation: 15 months – 3 years

Primary: 3 – 6 years

Lower Elementary: 1st – 3rd grade

Upper Elementary: 4th – 6th grade

Middle Years: 7th and 8th grade
Orientation: 15 months – 3 years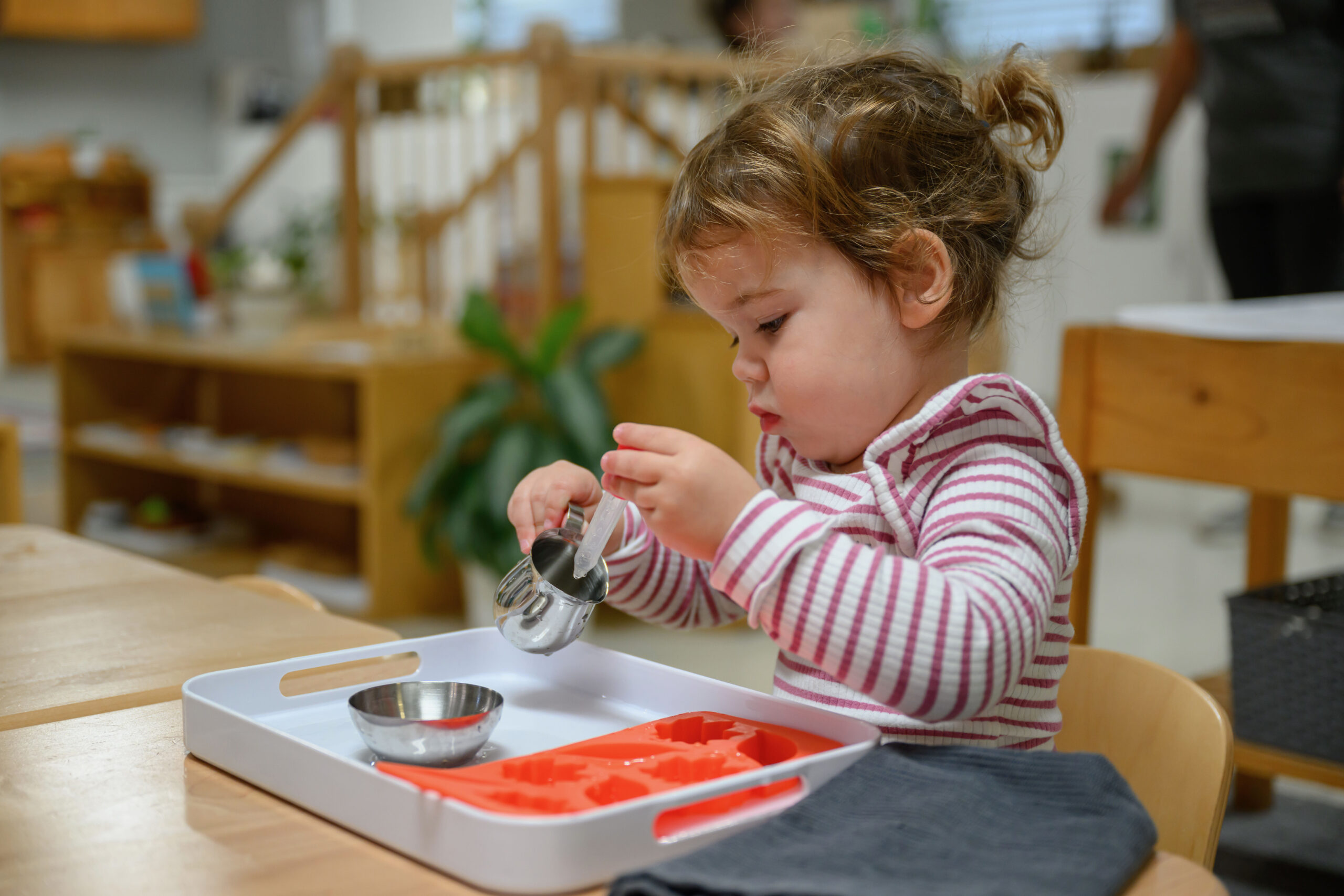 "Concentration is the key that opens up to the child the latent treasures within her."
– Maria Montessori
Our Orientation program celebrates the child and their first steps into the classroom, where the indoor and outdoor environments are prepared to facilitate child-centered learning and develop intrinsic motivation and independence. Here, the child will learn the three-finger grasp for writing, one-to-one correspondence for math, skills in relationship building, and a sense of wonder and curiosity that will guide the child's educational journey at St. Stephen's and beyond. Three-year-olds move to Primary, having experienced their first opportunities to lead by example in the classroom. 
Mentored by caring teachers and teacher assistants, children will explore:
Art, 

Language Arts,

Math, 

Music, 

Physical Movement and Wellness,

Practical Life Skills, including toilet learning, and 

Sensorial Lessons.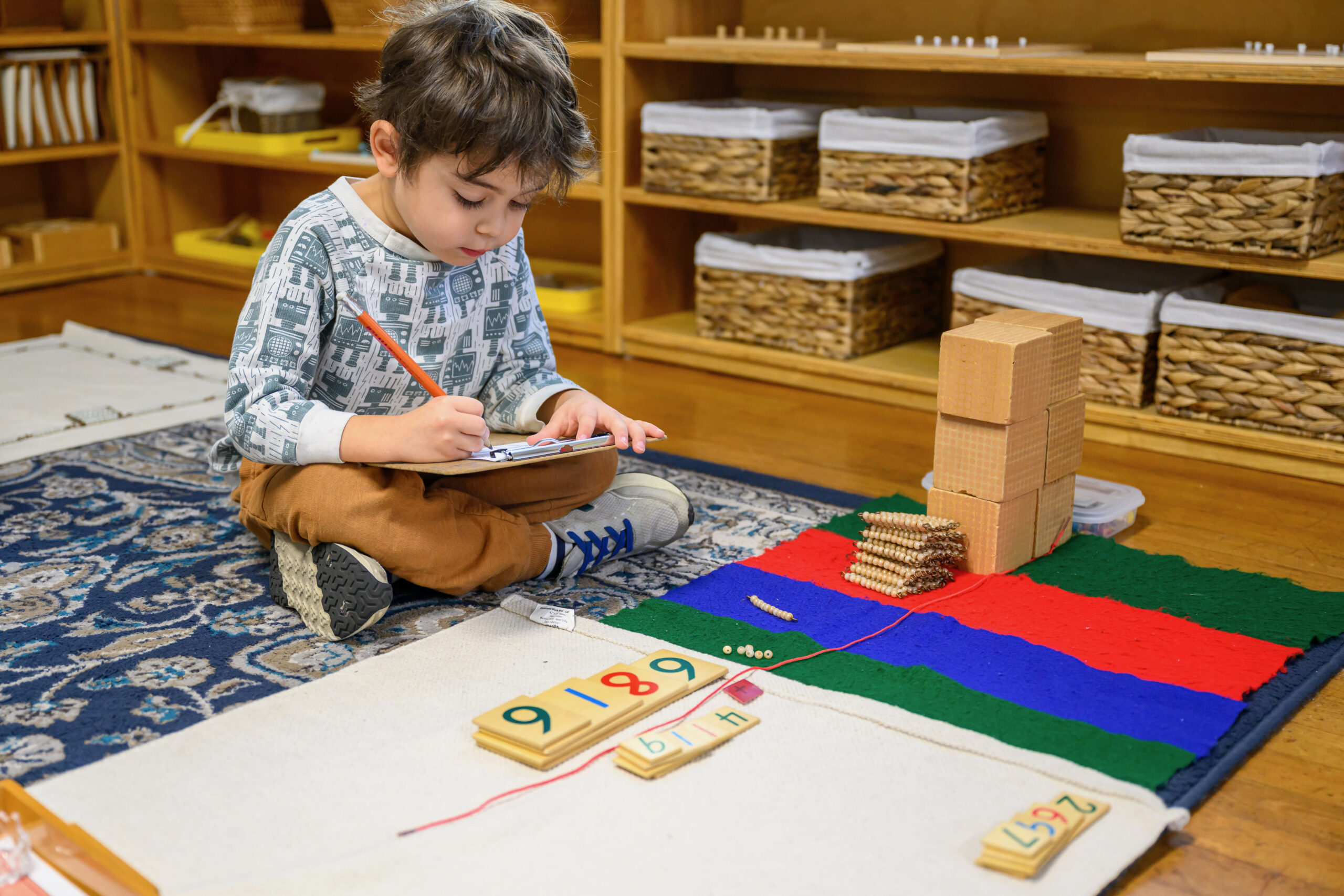 "Children display a universal love of mathematics, which is par excellence the science of precision, order, and intelligence."
– Maria Montessori
In our Primary program, learning becomes intentionally curricular, supporting the development of reasoning and perception. Experienced teachers gently employ the Montessori Method to instill responsibility for student-centered learning and inquiry. Working independently or with a friend, students arrive at a clear understanding of abstract concepts through the use of carefully planned, progressive, hands-on materials. Kindergarteners graduate from the Primary program as confident readers, emerging writers, mathematicians who understand the "why" behind simple operations, and builders in our da Vinci Lab for Creative Arts & Sciences.
The academic program in Primary is diverse, including lessons in:
Culture, 

Geography, 

Language Arts (reading, writing),

Math (addition, subtraction, skip-counting),

Music, 

PE, 

Practical Life, 

Science, 

Sensorial Exploration, 

Spanish, and 

Visual Arts.
Lower Elementary: 1st – 3rd grade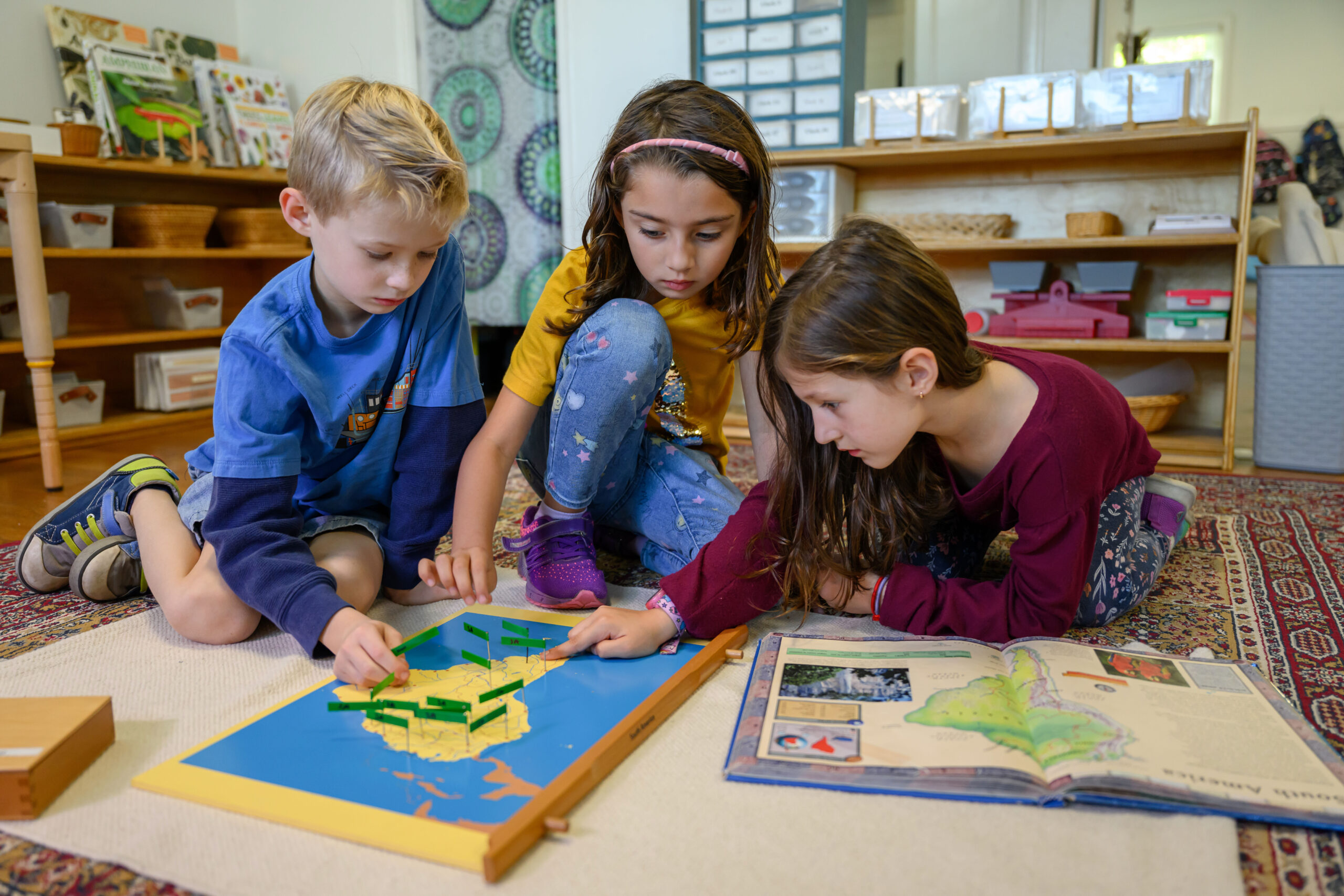 "Let us give the child a vision of the whole universe… for all things are part of the universe, and are connected with each other to form one whole unity."
– Maria Montessori
In Lower Elementary, students create and execute their own work plans in collaboration with their Montessori-trained teachers. The Lower Elementary student gains competency and confidence in math, language arts, science, history, and geography. Broad concepts are first explored, and then specific details are examined in depth. Students are introduced to the process of research and frequently work in small groups to discover additional information. Engaged in project-based learning, students learn how to delve deeper, work together, and take turns in leadership roles. Through daily class meetings focused on issues of general concern and centered on kindness and respect, Lower Elementary students build their classroom community. 
Lower Elementary curriculum includes:
Culture, 

Geography, 

History, 

Language Arts (reading comprehension, writing, grammar), 

Math (addition, subtraction, division, multiplication, geometry), 

Music, 

PE, 

Science, 

Spanish, 

STEM in the da Vinci Lab, and 

Visual Arts. 
Upper Elementary: 4th – 6th grade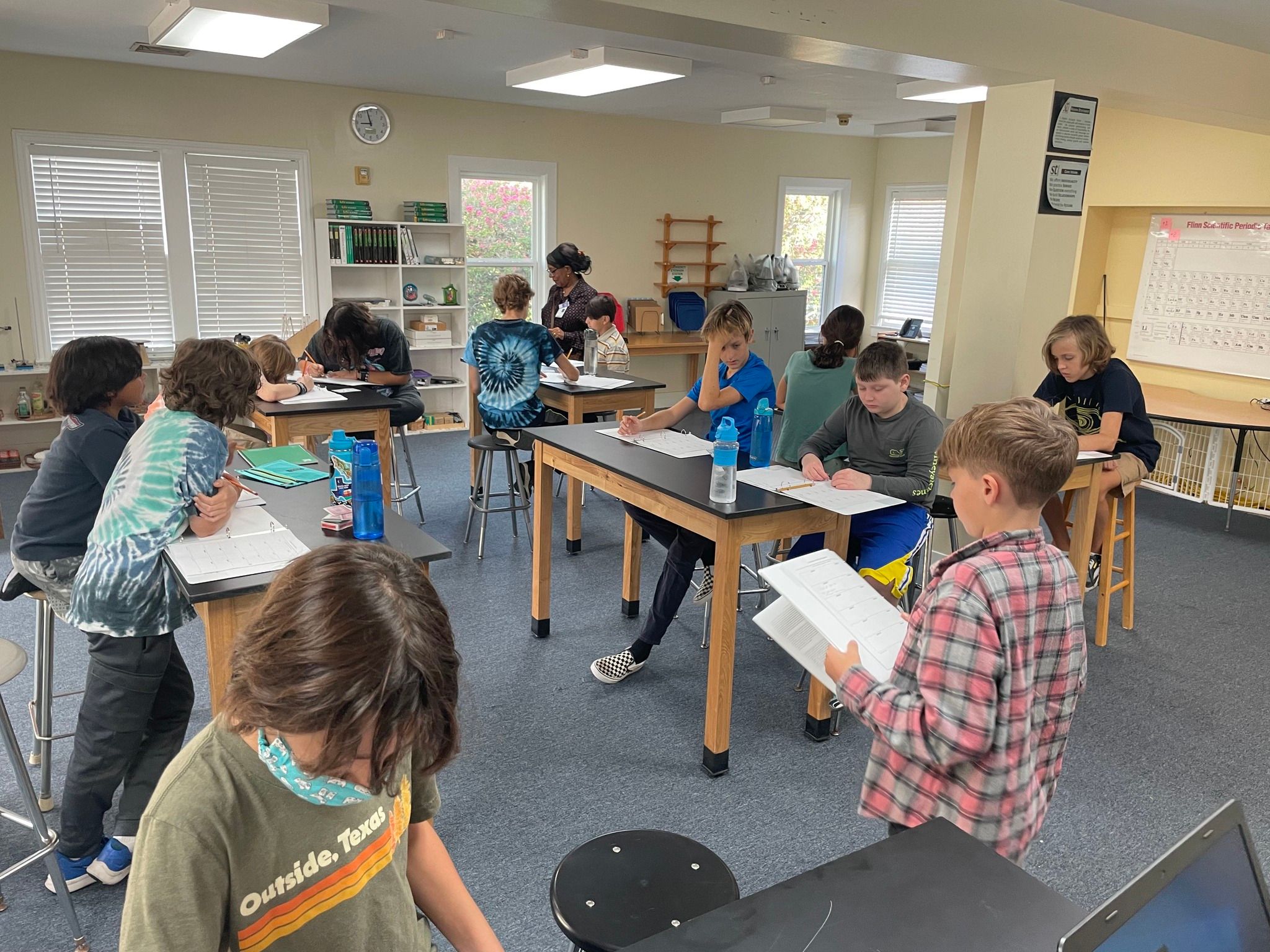 "The greatest sign of success for a teacher… is to be able to say, 'The children are now working as if I did not exist.'"
– Maria Montessori
In Upper Elementary, increased emphasis is placed on self-management and research skills. Students are given weeklong assignments and are responsible for planning and organizing their work and time. Teachers and students are empowered to explore the curriculum further and farther, leveraging an individually paced curriculum and robust courses in STEM, language arts, humanities, and fine arts. As members of a tight-knit community of learners, new and incoming students are encouraged to take academic risks and advocate for themselves.  Upper Elementary students thrive in the stretch zone of learning, utilizing higher-level thinking skills, including analysis, synthesis, and evaluation.
Academic exploration in Upper Elementary includes:
Culture, 

Geography, 

History, 

Language Arts (reading and writing workshops, literature, grammar), 

Math (geometry to pre-algebra), 

Music, 

PE, 




Science, 

Spanish, 

STEM in the da Vinci Lab, including Robotics,

and 

Visual Arts, including Film for 6th graders. 
Middle Years: 7th and 8th grade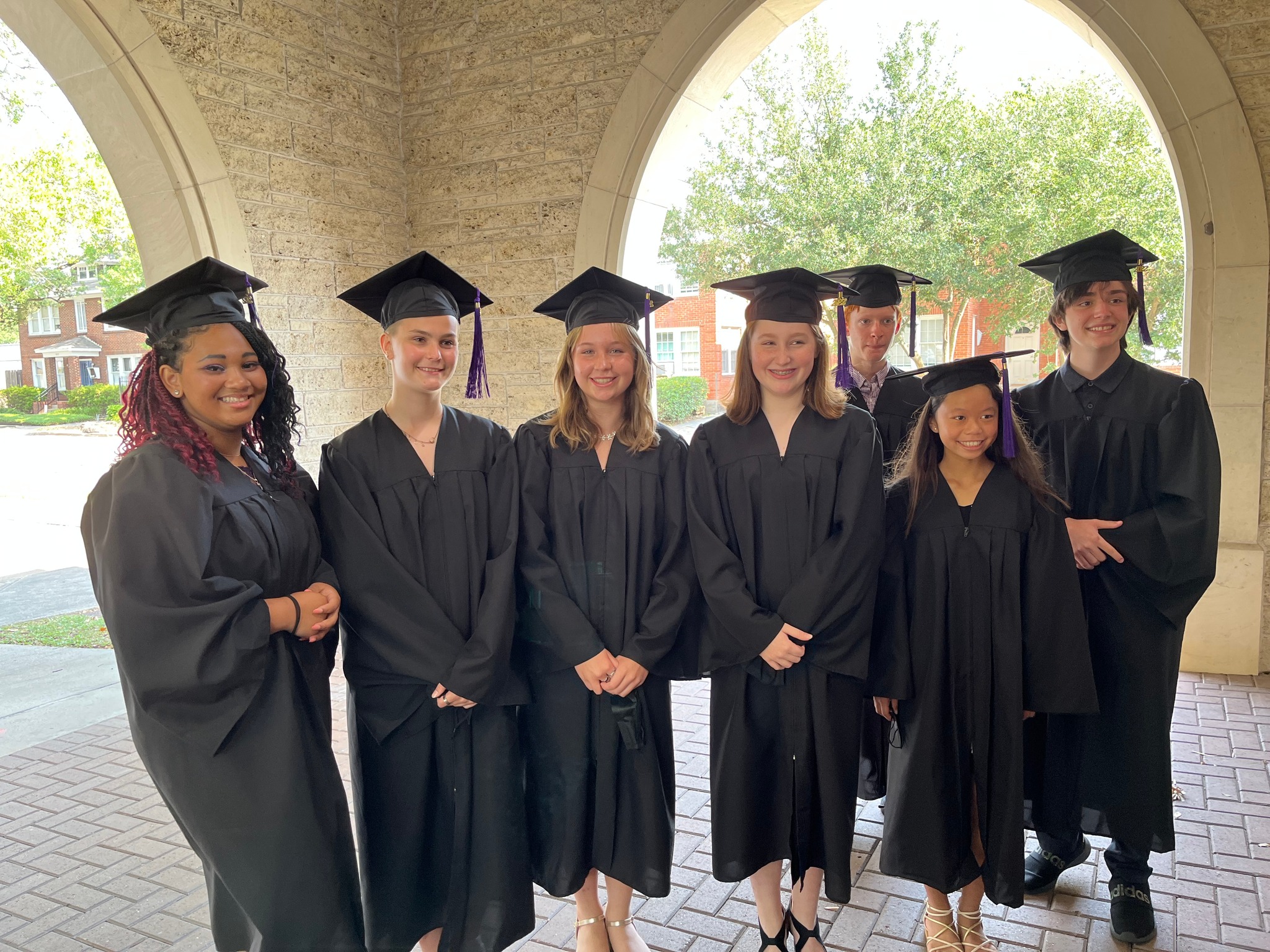 "The child is both a hope and a promise for mankind."
– Maria Montessori
In Middle Years, students learn from an elevated curriculum that sparks creativity and curiosity and inspires them to reach their academic potential. Eighth graders complete their journey at St. Stephen's in honors courses in algebra, integrated physics and chemistry, and Spanish. With a focus on language arts across academic disciplines, St. Stephen's students become experts in argument and composition, honing their critical thinking and analytical skills. Cross-curricular instruction continues in visual and performing arts electives as well as applied STEM in the da Vinci Lab, including Robotics. Middle Years students are inspired to take action and positively impact their school and the greater community as organizers, advocates, and volunteers. 
Advanced courses in 7th grade include: 
English,

Health,

Life Science,

PE,

Pre-Algebra, 

Spanish,

STEM in the da Vinci Lab, 

United States History, and

Specialist Classes: Film, Music, Robotics, Visual Arts.
Advanced courses in 8th grade include: 
Algebra,

English,

Integrated Physics & Chemistry,

PE,

Spanish,

STEM in the da Vinci Lab, 

World Geography,

World Religions, and

Specialist Classes: Film, Music, Robotics, Visual Arts.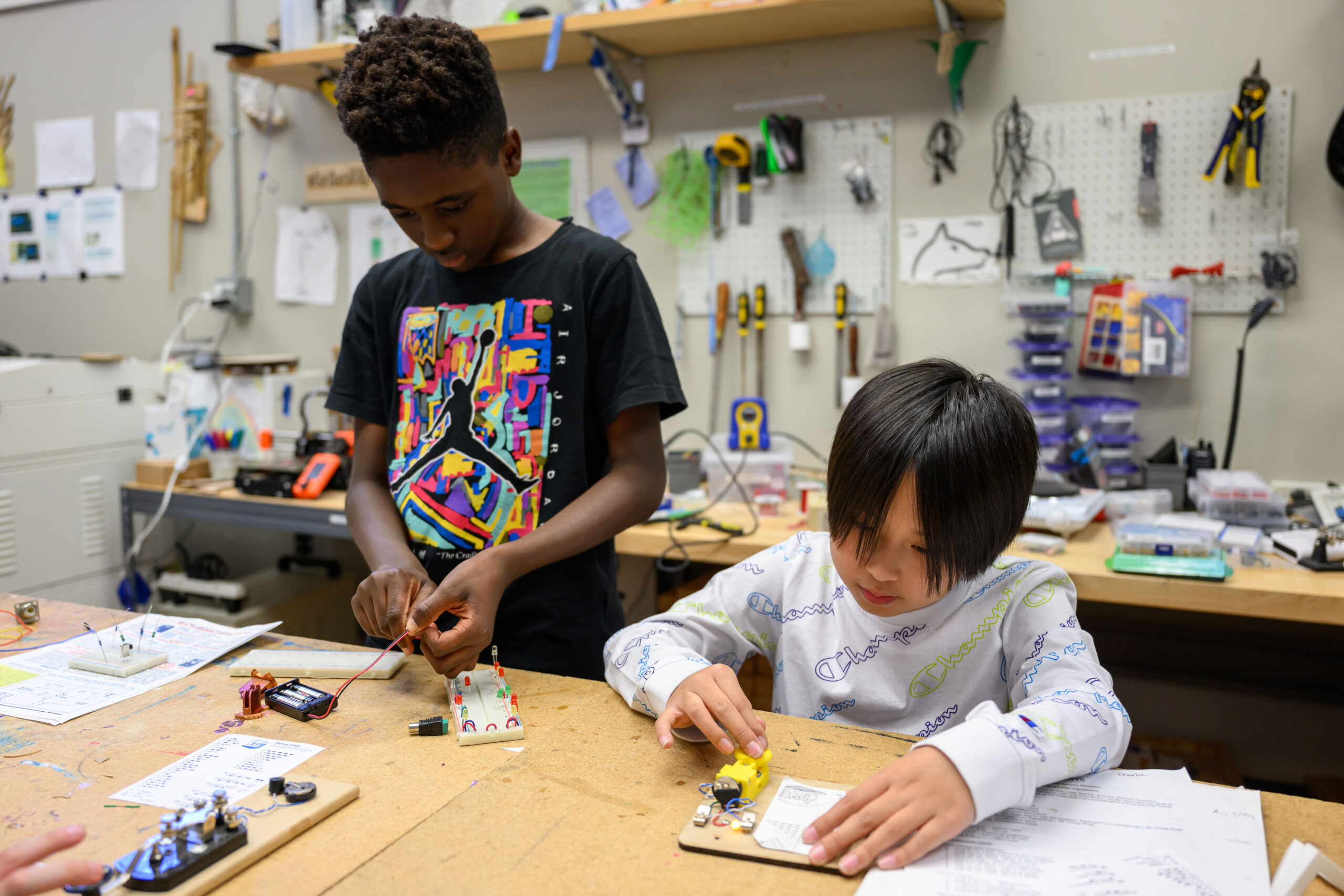 "Do not erase the designs the child makes in the soft wax of his inner life."
– Maria Montessori
Project-based learning, innovation, and STEM combine in the da Vinci Lab for Creative Arts & Sciences. The diverse curriculum in the da Vinci Lab (after school) and the da Vinci Classroom (during the school day for Kindergarten through 8th-grade students) includes a progressive radio curriculum, including Fox Hunts, Slow Scan TV, and Morse Code; core computing skills such as typing, internet safety, and basic coding; wood shop skills such as taking measurements and making drawings, cutting and fastening, as well as finishing wood; electronics, including motors, circuits, wearables, sensors, and coding; sewing featuring fabric design, cutting, and stitching; ceramics construction and finishing methods; 3D design, including slicing models and creating designs for 3D printing, 3D scanning, Mesh Mixer, and TinkerCad. Capstone projects include invention fairs, innovation projects, and fox hunts. The da Vinci Lab is also home to St. Stephen's Robotics program, which fosters engineering and design, creativity, computer programing skills, and teamwork. 
The Fine Arts Program is fully integrated with the core curriculum; our students enjoy creative outlets to express their learning in culture, literature, history, math, and science. Through music, film, and visual arts, including photography, St. Stephen's students give life and form to their creative ideas and share their talents in pop-up art shows, performances, and other special events. 
Our Spanish Program begins in Orientation with an informal introduction to the language, guided by bilingual teachers and assistant teachers. The Spanish curriculum begins in Primary and builds a strong foundation of language and culture. Spanish classes include puppets, props, storytelling, pictures, movement, songs, poems, fables, and rhymes. The Spanish curriculum emphasizes listening and comprehension in Primary and incorporates more speaking in Lower Elementary. The Upper Elementary and Middle Years curriculum balances listening, speaking, reading, and writing. This comprehensive curriculum is designed to prepare students to take the Spanish National Exam, be high school ready, and be well-rounded global citizens.
St. Stephen's Athletics and Wellness Program encourages integrity and fair play. To this end, no emphasis is placed on scores or winning or losing, but rather on the experience of spirited competition and the development of healthy minds and bodies. St. Stephen's students participate in PE and wellness classes as a component of the curriculum.
The Bulldog 360 after-school program features team sports, karate, dance, piano, da Vinci Lab, photography, and more. Bulldog 360 is supplemental learning, vibrant classes, and fun community building — all happening after school hours.